At Oregon Dermatology & Research Center, we recognize that your choice of a dermatologist is driven both by the doctor's competency and personality. When searching for dermatological treatment, you need a dermatologist who is experienced, understanding and supportive. You get this caring attitude from all the staff at Oregon Dermatology & Research Center every day. Our staff works together as a team to be sure we are responsive to your needs and keep you informed about your health issues. We look forward to getting to know you.
Teri
Teri has worked with Dr. Rich since March 2001. She started as a clinical research coordinator and became certified by the Association of Clinical Research Professionals (ACRP) in April 2003. In October 2012, after a restructuring in the office she became the research manager. Prior to working with Dr. Rich, Teri received her certificate from Southern Oregon University in their medical office program (PROMPT) and her dental assisting certificate from Rogue Community College. After receiving her certificates she worked in neurology for 4 years as a file clerk, medical assistant and then a clinical research coordinator. In her spare time she enjoys outdoor activities, gardening, decorating/renovating her home, spending time with family and running after her 200 pound English Mastiff. And yes, he does drool!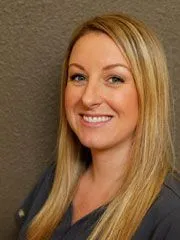 Carly
Carly has worked for Dr. Rich since March 2012, as a Clinical Research Coordinator. Carly currently lives in Vancouver, WA with her family, husband Austin, son Chord, and their 2 dogs Neymar and Dez. Chord frequently graces the clinic with his infectious giggles and sparkling grin. In her free time, Carly enjoys trying new restaurants, cooking, gardening, reading, and spending time with friends and family. She would love to, one day, open her own food cart serving a variety of her favorite foods.
Kimberly
Kimberly is one of the newest additions to the Research team. Coming from a pharmaceutical background, she is excited to incorporate this knowledge with the interest of dermatology. She has spent most of her time volunteering at Providence Willamette Falls Medical Center and Milwaukie Hospital in the ER as well as the Birthplace department. In her spare time, she loves to be outdoors hiking, kayaking, and rock climbing with friends.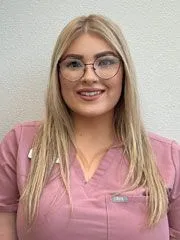 Samantha
Samantha graduated from Portland State University with a Bachelor of Science in Biology and has a huge passion for community health. She has volunteered in local high schools and middle schools as a mentor for health education, as well as in OHSU's trauma unit. In her free time, she enjoys doing her nails, spending time with her black cat Chunky, or can be found playing Valorant on PC. She is so happy to be the newest addition to the Oregon Dermatology and Research Center team and is excited to build a career in research.
Madeline
Madeline is one of the newest members to join our Research team. Coming from a professional background of customer service and business relations, she is also a strong advocate for community service and is very excited to apply her passion for helping others to her work. Outside of the office, Madeline spends much of her free time in thrift stores or in restaurants; she is always looking for great deals and great food! [Fun Fact: Madeline's record amount of time spent at one Goodwill is 6 hours and 37 minutes.] Rain or shine, Madeline can also be found exploring Oregon's many beautiful hiking trails accompanied by friends and family. New to research but excited for the challenge, Madeline is thrilled to join our Research team!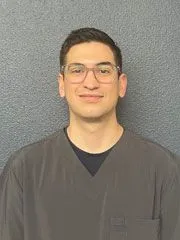 Alex
Alex graduated from Humboldt State University with a Bachelor of Science in Biology in 2019. He participated in undergraduate research as a student and began working in clinical research shortly after graduating. In his free time, he likes to explore the outdoors with his dog Ozzie and go hiking, swimming, or kayaking whenever the weather permits. While at home he is often cooking, watching movies, or playing video games with friends.
Laurel
Laurel grew up in Portland and graduated from UCLA with a Bachelor of Science in Biochemistry in 2021. She has a background as a medical assistant to a dermatologist in LA who focused on skin cancers and cosmetic dermatology. Laurel wanted to gain more experience with clinical research and is excited to be involved in dermatology studies that aim to treat difficult skin conditions. She is eager to see how these treatments improve patients' quality of life and inspire confidence in them. In her free time, she enjoys trying new restaurants that started in Portland while she was away in LA. Laurel also loves cooking for her family and friends, and she enjoys spending time with her chocolate lab, Remy. Laurel is excited to be back in Portland and to join the research team at ODRC.